The Manchester Acoustic Guitar webpage is no longer actively maintained as we are in regular contact with our membership via Facebook (link above) and email.
If you would like to receive email reminders of meetings and our occasional concerts please email us.
We won't pass your email on to anybody else.
Who We Are
Manchester Acoustic Guitar Society has been holding monthly acoustic open mic meetings in Urmston for over a decade.
If you are interested in acoustic guitar music, or play the acoustic guitar (from the bedroom maestro to the gigging player) this is the club for you. Come along and talk, play, learn, listen, exchange ideas and perform (if you wish) in front of a friendly audience. Folk, jazz, country, blues, unplugged rock, even classical, any acoustic guitar based groups, singers or soloists welcome.
Where We Are
The event takes place on the third Tuesday of each month at Flixton Conservative Club, Chassen Road, Flixton, M41 5DF.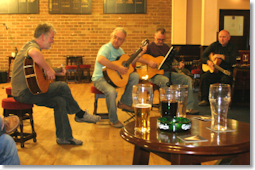 What We Do
The intention of Manchester Acoustic Guitar Society is to promote live acoustic guitar-based music, and to give players of all standards and styles a friendly, appreciative audience to play to. Many players blur the traditional boundaries, playing a bit of folk and a bit of blues, maybe some classical. They might be folkies, who like to play a bit of jazz, or electric guitarists who 'unplug' occasionally. Whether you like to mix your styles or not, come along and use the sessions as a friendly audience to try out new material or to hone the tunes you've being playing for years.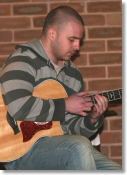 If you like to play but lack the confidence (or experience) to play 'proper gigs', we hope you'll find the open mic sessions more like playing to a group of friends than a 'performance'. Here, at Manchester Acoustic Guitar, you have an audience who won't criticise, won't laugh, and don't care what sort of music you'd like to share. You'll just have several friendly pairs of ears willing to give you some advice and tips and a good round of applause to boot!
Now, if you can't yet bring yourself to play in front of the mic, the first hour or so of the evening is even more informal, taking the form of a sort of guitar-pull, where guitars are passed around, ideas are shared and helpful tips are given. Even if you can only manage Three Blind Mice, that's fine, we want to hear it. If you just want to play that riff from that song, but don't know the rest, that's great too, and maybe someone can help fill in the gaps for you!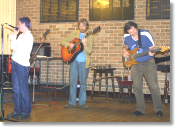 If even that's asking too much, just come along and listen until you have the confidence to have a go yourself. You never know, before long, you may just work up the courage to do your stuff in front of the mic!
Keep an eye on the News page for details of upcoming events. We hope to have some of the best local guitar players headlining the regular meetings and (separate from the Tuesday events) full-on gigs from the likes of Ashley Hutchins (of Fairport Convention, Steeleye Span and The Albion Band), Classical Guitarist Ben Kearsley and The Andy MacKenzie Trio.
So come along and give us a try, and bookmark the website to keep yourself up to date with meetings and other events.

DP Web Design - © 2012 - Manchester Acoustic Guitar