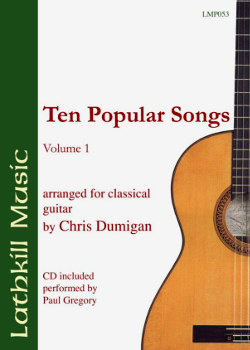 Ten Popular Songs
Arranging
As you can tell from the list below, many of my arrangements are of popular songs that are normally not played as solo guitar works. I started doing these when I began playing at functions 40 or so years ago. Not having enough of these modern arrangements in my repertoire I went to the nearest shop to buy several books and found, to my horror, that a lot of them were simply awful. They were either too simple, missed out all the good bits, or had many ludicrously hard parts in a vain effort to make them sound like the original work.
So I immediately began doing my own. I had them all in my head for a good number of years before I decided it was time to write them down. I had amassed 21 or so when my late friend Mike Bonwick suggested that I record them at his studio for posterity. This session resulted in my CD 'Making Arrangements' the details of which you can find elsewhere. Then I approached a publisher, Lathkill Music Publishers, who were willing to take on the onerous task of arranging to have some of them published.
As a result of copyright difficulties, it was 2-3 years before 'Ten Popular Songs' (Review) was published, but it became, and remains, one of Lathkill's biggest sellers. My arrangements list has since expanded to the list you see below, and all of the songs are notated. 'Ten Popular Songs - Volume 2' (Review) endured similar difficulties, but was was published in 2009.
Chris Dumigan, February 2007
Title
Composer(s)
Works for solo guitar
Alfie
Bacharach/David
All My Loving
Lennon/McCartney
And I Love Her*
Lennon/McCartney
And I Love You So**
Don McLean
Annie's Song
John Denver
April Come She Will
Paul Simon
At Last
Gordon/Warren
Besame Mucho
Torre Valasquez
Bewitched, Bothered and Bewildered
Rodgers/Hart
The Black Hills of Dakota
Paul Francis Webster and Sammy Fain
Blackberry Way
Roy Wood
Blood on the Rooftops
Hackett/Banks
Bridge Over Troubled Water
Simon
Brother, Can You Spare A Dime?**
Jay Gorney/E.Y.Harburg
California Dreaming
John Phillips/Michelle Gilliam
Can't Help Falling in Love
Peretti/Creatore/Weiss
Catari, Catari
Cardillo
Chim, Chim Cheree
Robert B and Richard M Sherman
The Christmas Song (Merry Christmas To You)
Torme/Wells
Classical Gas
Mason Williams
Crazy
Willie Nelson
Cry Me A River
Hamilton
Daydream
John Sebastian
The Deadwood Stage (from 'Calamity Jane')
Paul Francis Webster and Sammy Fain
Do You Know The Way To San Jose?
Bacharach/David
Don't Cry For Me Argentina
Tim Rice/Andrew Lloyd Webber
Downtown
Tony Hatch
Dream A Little Dream Of Me*
Schwandt/Andree/Kahn
Elegy
Anderson/Jethro Tull
Espanoleta (from Fantasia para un gentilhombre)
Rodrigo
Feed The Birds**
Richard M Sherman/Robert B. Sherman
Fields Of Gold
Sting
For No One
Lennon/McCartney
Girl
Lennon/McCartney
God Only Knows**
Wilson/Asher
Going Back
Goffin/King
A Groovy Kind of Love**
Bager Sayer/Wine
Gymnopedie No. 1
Satie
Happy Talk
Rodgers/Hammerstein
Happy Xmas (War Is Over)
Lennon
Have Yourself A Merry Little Christmas
Blane/Martin
Hello Young Lovers (from 'The King and I')
Rodgers/Hammerstein
Here Comes The Sun
Harrison
Here the Tides Flow‡
Gayle Tapper
Here There and Everywhere
Lennon/McCartney
Homburg
Brooker/Reid
Homeward Bound
Paul Simon
How Soon
Henry Mancini
Hushabye Mountain
R.& R. Sherman
I Don't Know How To Love Him
Tim Rice/Andrew Lloyd Webber
I Left My Heart In San Francisco
George C. Cory Jr./Douglass Cross
I Want to Hold Your hand
Lennon/McCartney
I Will
Lennon/McCartney
I Will Wait For You
Legrand/Gimbel
If
David Gates
If I Fell
Lennon/McCartney
Imagine
Lennon
Imagine - A Silent Night!
Lennon/Gruber
In My Life
Lennon/McCartney
It's Only Love
Lennon/McCartney
Just Blew in From the Windy City (from 'Calamity Jane')
Paul Francis Webster and Sammy Fain
Killing Me Softly With His Song*
Gimbel/Fox
Lately
Wonder
Leaving On A Jet Plane
John Denver
Let There Be Love*
Grant/Rand
Let's Go Fly A Kite
Robert B and Richard M Sherman
A Londonderry Air*
Traditional (Arr Dumigan)
Long and Winding Road
Lennon/McCartney
The Look of Love
Bacharach/David
Love Is Blue**
Andre Popp
Love's Old Sweet Song
Malloy/Bingham
The Man With The Child In His Eyes
Kate Bush
May Each Day
Wyle/Green
Memory**
Tim Rice/Andrew Lloyd Webber
Michelle
Lennon/McCartney
Moon River
Mancini/Mercer
More Than Words
Extreme
Morning Has Broken
Trad: Farjeon/Stevens
My Colouring Book
Ebb/Kander
My Favourite Things
Rodgers/Hammerstein
Nature Boy
Eden Ahbez
Nights in White Satin
Justin Hayward
Novelette in C Major
Poulenc
Out of Town
Bricusse/Beaumont
Over The Rainbow
Harburg/Arlen
Que Sera Sera
Livingston/Evans
Raining In My Heart
B.Bryant/F.Bryant
Say A Little Prayer
Bacharach/David
Scarborough Fair* (Video)
Traditional
Scarlet Ribbons*
Danzig/Segal
Sealed With A Kiss*
Udell/Gold
Secret Love (from 'Calamity Jane')
Paul Francis Webster and Sammy Fain
Send In The Clowns
Stephen Sondheim
Seventeen
Ian
Share The Joy
Bacharach/David
She
Charles Aznavour/Herbert Kretzmer
She's Leaving Home
Lennon/McCartney
She's Not There
Zombies/Santana
The Skye Boat Song*
Traditional
Smile
Chaplin
Something
Harrison
Somewhere out There
Horner/Mann/Weil
Spring Spring Spring
Chaplin/De Paul/Mercer
Sunny Afternoon
Ray Davies
Tammy
Livingston/Evans
A Taste of Honey
Scott/Marlow
Tears In Heaven
Clapton/Jennings
Theme from 'Love Story'
Francis Lai
Theme from 'Romeo and Juliet'
Nino Rota
Theme from 'The Godfather'
Nino Rota
Theme From 'A Summer Place'
Percy Faith
Theme from 'Somewhere In Time'
John Barry
Theme from 'Whistle Down The Wind'
Arnold
A Thousand Years
Christina Perri
Till There Was You
Wilson
Time After Time**
Cyndi Lauper
Trains and Boats and Planes
Bacharach/David
Tristeza India‡
Digno Garcia
True Love Ways
Holly/Petty
Twelfth of Never
Webster/Livingston
Unforgettable
Irving Gordon
Vincent* (Video)
Don McLean
Vive la Rose‡
French Trad.
Voices in the Sky
Justin Hayward
Walk On By
Bacharach/David
Walking In The Air
Blake
We Have All The Time In The World**
John Barry
We've Only Just Begun
Williams/Nichols
What the World Needs Now
Bacharach/David
When I Fall In Love
Heyman/Young
When You Wish Upon A Star
Washington/Livingston
The Windmills of Your Mind
Legrand
Women Of Ireland**
Traditional
Wonderful Tonight
Eric Clapton
The World is a Circle
Bacharach/David
Yesterday
Lennon/McCartney
Your Song
Elton John/Bernie Taupin
You're a Lady
Skellern
You've Got To Hide Your Love Away
Lennon/McCartney
Works for Two Guitars
71st Regiment Waltz
Felix Arndt
Album Leaves Op. 28
Grieg
Banjo Dance
Felix Arndt
Barcarolle Op. 26 No. 1
Faure
Clover Club
Felix Arndt
Children's Corner
Debussy
Childhood Days
Felix Arndt
Cowkeeper's Tune Op. 63 No. 2a†
Greig
Danse: Tarantelle Styrienne
Debussy
Desecration - A Rag Humoresque
Felix Arndt
Dolly: Suite Op. 56†
Faure
Eight Pieces Breves†
Faure
Five Short Pieces
Berkeley
For Children (32 piece selection)†
Bartok
From Soup to Nuts - Turkey Trot One-Step
Felix Arndt
The Heart Asks Pleasure First
Nyman
Imprompu No3 Op. 34
Faure
Jesu, Joy of Man's Desiring - Chorale from Cantata No. 1147
J. S. Bach
Kakuda - One-Step or Ta-Tao
Felix Arndt
Lyric Pieces Op. 12, 38, 43, 47, 54 (Review), 57, 62, 65, 68 & 71†
Grieg
Marionette
Felix Arndt
Mother Goose Suite
Ravel
An Operatic Nightmare (Desecration No. 2 - Fox Trot - A Classic Rag)
Felix Arndt
Petite Suite† (Review)
Borodin
Pictures of Childhood
Khachaturian
Poetic Tone Pictures Op. 3
Grieg
24 Preludes: Book 1 - 1, 6, 8, 9, 12; Book 2 - 2, 5, 6, 7, 9, 10, 11
Debussy
Romance Without Words Op. 17 No. 1†
Faure
Romance Without Words Op. 17 No. 2†
Faure
Romance Without Words Op. 17 No. 3†
Faure
Nola: A Silhouette for Piano
Arndt
Six Preludes
Berkeley
Suite Bergamasque
Debussy
Toots - A Rag One-Step
Felix Arndt
Valse- La Plus Que Lente
Debussy
Works for Three Guitars
Le Tombeau De Couperin
Ravel
Valses Nobles Et Sentimentales
Ravel
Works for Voice and Guitar
The Big Nose Song (Can Can)
Offenbach
Summertime (Lullaby)
Gershwin/Heyward
‡ Unpublished but available from Chris in one volume, 'Three Pieces in Folk Style'.
All other arrangements are unpublished.