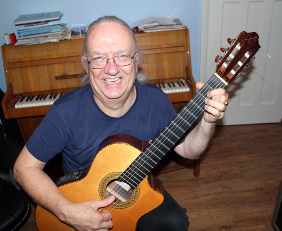 Teaching
For four decades, Chris has been teaching Acoustic Guitar and Classical Guitar for all ages and abilities, along with Electric Bass and Electric Guitar for beginners. He is also an experienced GCSE/O-Level teacher and, as he has often found that educational establishments are sometimes not teaching music in an effective enough way, making him an ideal supplemental teacher.
All lessons are on a strictly one to one basis. Chris does not believe in teaching in groups since players are often of different levels and learn at varying speeds. Therefore, he feels group teaching simply doesn't give the pupils their best chance for improvement and strongly discourages it.
Chris is based in Urmston, Manchester and all lessons can take place either at his home or yours, subject to arrangement. Should you wish for Chris to travel to you, appropriate travel expenses will be added to the lesson fee. Teaching material is purchased by Chris, but is paid for ultimately by the pupil.
COVID Notice:
Chris is now available to teach over Skype and has been doing so successfully since the start of lockdown.
Instruments and Accessories
Pupils will need to own their own guitar, along with a footstool, a music stand and, for the non-classical players, a handful of plectrums. Only the guitar would need to be brought to lessons, but the other items are, of course, required for home practice.
Guitars and accessories can be purchased from music shops, such as:
Music Exchange
PMT Online
Strings Direct
Forsyth
Dawsons
For details on fees and any other information with respect to the above please contact Chris direct.