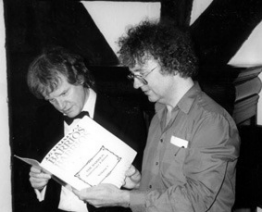 Neil Smith and Chris, studying one
of Chris' Barrios Volumes
Transcribing
Chris has the useful ability to be able to write music down from recordings very accurately. He is becoming known, particularly in the guitar world, for this talent, and an impressive number of his transcriptions have been played by such prestigeous guitarists as Neil Smith, Karin Schaupp, David Caswell (David Caswell on Chris' Cacho Tirao transcriptions) and Philippe Lemaigre.
It goes without saying that this is a very skilled ability to have and the pieces themselves can take several hours of work to write down. However, Chris is aware just how rare this talent is, but yet does not make his work uncompetitive. His rates therefore, while depending on the length and complexity of the piece, are very reasonable, especially when the purchaser would be getting a playable version of a piece that is, one assumes, not in print.
An Interview with Chris by Tim Panting was published in the January 2011 edition of Classical Guitar. You can read the full article here.
---
"As with all your editions, I find them immediately understandable and playable."
"I am always amazed at your accuracy - you have an extraordinary gift!"
"All your work has given me terrific pleasure."
"I cannot imagine life without Continicio, Adios Nonino or Corralera. I look forward to enjoying many more of your transcriptions."
"[About Corralera] I really like this one and find your transcription excellent."
"I am once again stunned by your extraordinary ability to realize music from recordings. I think that this is a rare gift."
"Dear Chris,

You are a genius.

Many thanks,

David"
---
These transcriptions are all taken from recorded performances and are for solo guitar unless otherwise stated. All are unpublished, with the exception of 'The Complete Known Performances' by Agustin Barrios (50+ pieces, all transcribed). They were all previously published by The Barrios Anniversary Edition (no longer available). Now the original works have been incorporated into Mel Bay's Two volume Set 'The Complete Works Of Agustin Barrios Mangore', as edited and compiled by Richard 'Rico' Stover. The Arrangements are published by Lathkill Music Publishers as 'Barrios: The Arrangements' as transcribed by Chris Dumigan.
Title
Composer(s)
Performer(s)
A Beatles Medley
Lennon/McCartney
Paulinho Nogueira
A Christmas Carol
Gordon Giltrap
Gordon Giltrap
A Don Ata (Chacarera)
M.A. Quiroga
Cacho Tirao
A Lost Sarabande
Stu Blagden
Stu Blagden
A Misunderstood Man/Be With Me Always
Gordon Giltrap
Gordon Giltrap
A Promise Fulfilled
Gordon Giltrap
Gordon Giltrap
A Tapestry of Tears
Gordon Giltrap
Gordon Giltrap
Adios Nonino
Piazzolla
Cacho Tirao
Al Dejar Mus Montanas
Falu
Eduardo Falu
Alfonsina Y El Mar
Ramirez
Gerald Garcia
All the Days of May
Gordon Giltrap
Gordon Giltrap
Amazing Grace*
John Newton and William Walker
Stan Ayeroff
An Unknown Piece
Alvaro Pierri
Alvaro Pierri
Ania's Dream
Gordon Giltrap
Gordon Giltrap
April Love
Gordon Giltrap
Gordon Giltrap
Aria Na 4a Corda
Bach
Paulinho Nogueira
Ashokan Farewell*
Jay Ungar and Molly Mason
Stan Ayeroff
Asturias (Leyenda)
Albeniz
John Williams
Bagatelle for 2 Guitars
Presti
Ida Presti/Alexandre Lagoya
Balletto
Manuel Ponce
John Williams
Barrios: The Arrangements (Review)
Various (arr. Barrios)
Agustin Barrios
Barrios: The Complete Original Works
Agustin Barrios
Agustin Barrios
Besame Morenita
Dalmar
Jorge Morel
Blackbird
Lennon/McCartney
Cacho Tirao
Blackbird*
Lennon/McCartney
Stan Ayeroff
Blue Moon*
Rogers and Hart
Stan Ayeroff
Blue Skies*
Irving Berlin
Stan Ayeroff
Both Sides Now*
Joni Mitchell
Stan Ayeroff
Cadiz
Albiniz
John Williams
Camina De Colorado
E.Sainz de la Maza
Alex Garobe
Canarios
Gaspar Sanz
John Williams
Canarios
Sanz
Bream
Canciones De Mi Pueblo (Video)
Jose Pierri Sapere
Alvaro Pierri
Can't Find My Way Home*
Steve Winward
Stan Ayeroff
Canzonetta
F.Mendelssohn
Julian Bream
Carmen Fantasia
Bizet
Kaori Muraji
Caro E La Rosa, Villanelle
A Falconieri (arr. Blagden)
Stu Blagden
Castilla
Alan Clare
John Williams
Choro for Juan Falu
Stu Blagden
Stu Blagden
Choro Pra Suki
Stu Blagden
Stu Blagden
Circle of Friends
Gordon Giltrap
Gordon Giltrap
Como Llora Una Estrella
Carillo
Oraison
Concerto In Dm
Alessandro Marcello
Graham Devine
Continicio - Vals
Mejias
Alirio Diaz
Corralera
Aieta
Cacho Tirao
Crying Out to You
Rodrigo Rodriguez
Rodrigo Rodriguez
Daisy Chain
Gordon Giltrap
Gordon Giltrap
Danza Espanola No5
Granados
John Williams
Danza Paraguaya
Barrios
Williams
Dorme Mariana
Torrecillha
Torrecillha
Dorme Marina
Torrecillha
Torrecillha
Earl of Essex, High Marshall of England, His Galliard
Dowland
John Williams
El Arriero
Yupanqui
Cacho Tirao
El Manicero
Simon
Ernesto Tamayo
El Pala Pala
Trad Argentinian Dance
Eduardo Falu
Elegy
Gordon Giltrap
Gordon Giltrap
Em's Tune
Gordon Giltrap
Gordon Giltrap
Epitafios Nos, 2, 3, 4, and 5
Theodorakis
John Williams
Estate*
Bruno Martino
Stan Ayeroff
Eu Sei Que Vou Te Amar
Jobim/De Moraes
Paulinho Nogueira
Feelin' Bad Blues
Ry Cooder
Ry Cooder
Fell Runner
Gordon Giltrap
Gordon Giltrap
For Those Who Bring Sunshine
Gordon Giltrap
Gordon Giltrap
Forever Gold
Gordon Giltrap
Gordon Giltrap
From the Four Winds
Gordon Giltrap
Gordon Giltrap
Galleguita
Petorossi
Cacho Tirao
Garoto De Ipanema
Jobim
Graham Devine
Gazebo Tree (Lyrics/Notation/Tab)
Kristin Hersh
Kristin Hersh
Georgia On My Mind*
Carmichael/Gorrell
Stan Ayeroff
God Rest Ye Merry Gentlemen
Trad. (arr. Blagden)
Stu Blagden
Going Home (Theme from Local Hero)
Knopfler
Dire Straits
Golden Slumbers
Lennon/McCartney
Stan Ayeroff
Granada
Albeniz
Williams
I Think It's Going to Rain Today*
Randy Newman
Stan Ayeroff
In Party Mood
Jack Strachey
Stu Blagden
It's Only A Paper Moon*
Arlen/Harburg/Rose
Stan Ayeroff
Jolanta
Earl Klugh
Earl Kluigh
Kaz
Gordon Giltrap
Gordon Giltrap
La Casita De Mis Viejos
Cobian
Cacho Tirao
La Cuartelera (Zamba)
Falu
Eduardo Falu
La Firulete
Mores
Cacho Tirao
La Juan Carreno
Atahualpa Yupanqui
Carlos Moscardini
La Maja de Goya, Tonadilla
Granados
John Williams
Le Clochard
Akkerman
Jan Akkerman
Light of the World
Gordon Giltrap
Gordon Giltrap
London
Gordon Giltrap
Gordon Giltrap
Londonderry Air
Trad (arr Takemitsu)
Sharon Isbin
Loren
Gordon Giltrap
Gordon Giltrap
Los Mareados
Cobian
Cacho Tirao
Lost In the Stars*
Weill/Anderson
Stan Ayeroff
Lute Suite No. 1
JS Bach
John Williams
Lute Suite No. 2
JS Bach
John Williams
Mallorca
Albeniz
Williams
Menuetto from Sonata Op. 78 D894
Schubert
Julian Bream
Mi Amigo Carlos
Dominguez
Juanjo Dominguez
Milonga de Mis Amores
Laurenz
Cacho Tirao
Milonga Del Angel (Version 1)
Piazzolla
Oraison
Milonga Del Angel (Version 2)
Piazzolla
Oraison
Milonga En Ay Menor
Piazzolla
Oraison
Milonga Sentimentale
Piana
Cacho Tirao
Mona Lisa*
Evans/Livingston
Stan Ayeroff
Mounsieurs Almaine
Batchelar
John Williams
My Funny Valentine for 2 guitars
Rodgers/Hart (arr Martin Taylor)
Martin Taylor
Ne Rendape Aju
Flores/Guerrero
Antonio Lopez Palacios
'Night' from the Three Cornered Hat
De Falla
Manuel Barrueco
Nostalagias Tucamanas
Yupanqui
Cacho Tirao
Nunca Tuovo Novio
Bardi
Cacho Tirao
One for Billie
Gordon Giltrap
Gordon Giltrap
Pajaro Campana
Cardoso
Cacho Tirao
Palomita Blanca
Aieta
Cacho Tirao
Paula's Passion
Gordon Giltrap
Gordon Giltrap
Pedecito de Cielo
Francine
Cacho Tirao
Pedrolino*
Gordon Giltrap
Gordon Giltrap
Plas Oriel
Gordon Giltrap
Gordon Giltrap
Prayer for Philippa
Gordon Giltrap
Gordon Giltrap
Prelude Fugue & Allegro BWV998
JS Bach
John Williams
Preludio
Manuel Ponce
John Williams
Queen Elizabeth, Her Galliard
Dowland
John Williams
Quest for Nonsuch
Gordon Giltrap
Gordon Giltrap
Rainbow Kites
Gordon Giltrap
Gordon Giltrap
Romance
Paganini/Ponce
Andres Segovia
Sabor A Mi*
Alvaro Carillo
Stan Ayeroff
Sadie in May
Gordon Giltrap
Gordon Giltrap
Samba Triste
Baden Powell
Baden Powell
Scherzino Mexicano
Ponce
Williams
Secret Valentine
Gordon Giltrap
Gordon Giltrap
Sentimiento Gaucho
Canaro
Juanjo Dominguez
Sevilla
Albeniz
Williams
Sharing Days
Gordon Giltrap
Gordon Giltrap
Simply Margaret
Gordon Giltrap
Gordon Giltrap
Soledad Y Mi Buenos Aires Querido
Gardel LaPera
Cacho Tirao
Sonata in Am (K175/L429)
D.Scarlatti
Williams
Sonata in C Op15, 1st Movement
Giuliani
Julian Bream
Sonata in D
Mateo Albeniz
John Williams
Sonata in Em (K76/L33)
D.Scarlatti
Bream
Sonata K208 L238
D. Scarlatti
Julian Bream
Sonata L104 K159
D. Scarlatti
Julian Bream
Sonata L108 K213
D. Scarlatti
Julian Bream
Sonata L23 K380
D. Scarlatti
Julian Bream
Sonata L483 K448
D. Scarlatti
Julian Bream
Song for George
Eric Johnson
Eric Johnson
Song Without Words Op19 No6 - Venetian Boat Song
Mendelssohn
Julian Bream
Spring
Gordon Giltrap
Gordon Giltrap
Spring Is Here*
Rogers/Hart
Stan Ayeroff
Suayo
Angulo
Tamayo
Sultans of Swing (from 'Alchemy' Live)
Knopfler
Dire Straits
Sun Song
Lee Ritenour
Lee Ritenour
Sur
Triolo
Cacho Tirao
Sus Ojos Se Cerraron
Gardel LaPera
Cacho Tirao
Tailor Bird
Gordon Giltrap
Gordon Giltrap
Tango
Albeniz
Williams
Tears of Joy
Gordon Giltrap
Gordon Giltrap
Teignmouth Days
Stu Blagden
Stu Blagden
The Anna Fantasia
Gordon Giltrap
Gordon Giltrap
The Bonnie Bonnie Banks of Loch Lomond
Traditional
David Russell
The Dodo's Dream
Gordon Giltrap
Gordon Giltrap
The Entertainer
Joplin
John Williams
The Harmonious Blacksmith
Handel/Giuliani
John Williams
The Kissing Gate
Gordon Giltrap
Gordon Giltrap
The Ladies of Lichfield
Gordon Giltrap
Gordon Giltrap
The Last of England
Gordon Giltrap
Gordon Giltrap
The Long Road Home
Gordon Giltrap
Gordon Giltrap
The Lord's Seat
Gordon Giltrap
Gordon Giltrap
The Nearness of You*
Carmichael/Washington
Stan Ayeroff
The Passing of a Queen (Baritone Guitar)
Gordon Giltrap
Gordon Giltrap
The Stars Look Down On Linda
Gordon Giltrap
Gordon Giltrap
This Father's Love
Gordon Giltrap
Gordon Giltrap
Tomo Y Obligo
Gardel LaPera
Cacho Tirao
Torra Bermeja
Albiniz
John Williams
Triste Ausencia
L. Albano Conceicao
L. Albano Conceicao
True Love*
Cole Porter
Stan Ayeroff
Tu Olvido
Espina
Cacho Tirao
Vals Criollo
Lauro
Williams
Vals No. 1
Gentil Montana
Gentil Montana
Valse Nostalgique No. 1
Stu Blagden
Stu Blagden
Valses Poeticos (abridged)
Granados
John Williams
Vivras Eternamente
Alicia Maguina
Javier Echecobar
Volver
Gardel LaPera
Cacho Tirao
Wachet Auf
Bach
David Russell
When I Fall In Love
Heyman/Young
Paulinho Nogueira
When You Are Smiling*
Sahy/Fisher/Goodwin
Stan Ayeroff
Who Knows Where Tomorrow Goes
Gordon Giltrap
Gordon Giltrap
Work*
Gordon Giltrap
Gordon Giltrap
Yo Adoro A Mi Madre
Ponce
John Williams
You Are So Beautiful*
Preston/Fisher
Stan Ayeroff
You Are Too Beautiful*
Rogers/Hart
Stan Ayeroff
Zamba De Vargas
Falu
Eduardo Falu
Zambra Granadina
Albiniz
Williams
Works for Voice and Guitar
Algarrobo Algarrobal
Espinosa/Ponferrada
Eduardo Falu
Camino Del Indio
Yupanqui
Atahualpa Yupanqui
Campesino
Yupanqui
Atahualpa Yupanqui
Cancion Del Jangadero
Davalos
Eduardo Falu
La Caspi Corral
Falu/Davalos
Eduardo Falu
La Lopez Pereyra
Falu
Eduardo Falu
La Nochera
Falu
Eduardo Falu
La Pobrecita
Zamba
Yupanqui
La Verde Rama
Falu/Davalos
Eduardo Falu
Las Golondrinas
Falu
Falu/Davolos
Resolana
Falu/Davalos
Eduardo Falu
Tiempo De Partir
Falu/Mansilla
Eduardo Falu
Tonada Del Viejo Amor
Falu/Davalos
Eduardo Falu
Trago De Sombra
Falu/Davalos
Eduardo Falu
Vidala De La Copla
Falu
Falu/Rodriguez
Vidala Del Nombrador
Falu
Falu/Calvo
Vidala Del Pujllay
Falu/Luna
Eduardo Falu
Vidala Del Culampaja
Falu/Villafane
Eduardo Falu
Zamba De La Candelaria
Falu/Davalos
Eduardo Falu
Works for Other Combinations
Easy Jazz 2 (two guitars and trumpet in Bb)
Panteleimon Michaeloudis
Panteleimon Michaeloudis
Espanol (two guitars and bass guitar
Panteleimon Michaeloudis
Panteleimon Michaeloudis
Heroic Deeds (two guitars)
Panteleimon Michaeloudis
Panteleimon Michaeloudis
Meditaranean Fantasy (guitar, flute and strings)
Panteleimon Michaeloudis
Panteleimon Michaeloudis
Viva La More (two guitars, 'cello and strings)
Panteleimon Michaeloudis
Panteleimon Michaeloudis
* Transcriptions of Stan Ayeroff's internet performances during 2020.
Disclaimer
The responsibility regarding the possibility of copyright concerning the piece of transcription is solely the purchasers. Chris Dumigan accepts no liability for doing the transcriptions and it is understood from the outset that it is the sole responsibility of the purchaser, who is absolutely not to sell it on, print it, or otherwise pass on the said work of transcription to anybody else who might profit from its publication or printing.