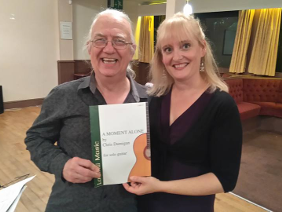 Chris with Valerie Hartzell
at Urmston Cricket Club
Composing
Chris has been writing music now for 50 years, including over 150 songs as a singer/songwriter (some in collaboration with lyricists including Chris Fogg, Brian Cooper, and a small number of other people), the music for two musical shows, Stag and Marilyn, both of which were collaborations with lyricist Chris Fogg and were performed a number of times.
With regard to his classical writing, there are works for flute solo, bass solo, and even a few early works for piano solo, but most of all there are his 40+ classical guitar works, 20 for solo, 5 for duo, and others for three guitars, four guitars, guitar orchestra, flute and guitar, flute viola and guitar, bayan and guitar, and contralto and guitar.
The huge majority of these works have been performed, and most of them can be found in print with Lathkill Music (UK), Les Productions D'Oz of Canada, Berben of Italy, or Trekel of Germany. All of these pieces are available to purchase directly from Chris, including all currently unpublished items. He is happy to take any writing commissions, and recently wrote a piece for the 40th anniversary of the Brewhouse Theatre in Taunton, a song scored for choirs and pre-recorded orchestral backing , called 'In Our Time', another collaboration with his old friend, Chris Fogg.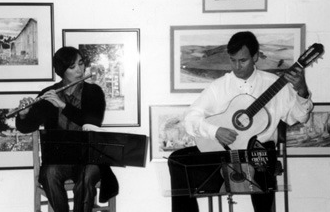 Alison Back and Paul Gregory
performing 'Partita in Four Movements'
for Flute and Guitar
*Commissioned by and dedicated to the Dillington Guitar Summer School Players.
†"Aubade" commissioned by TrioConBrio to precede Chris' 1998 composition "Pastorale and Dance" to form a three-movement work.
As is mentioned on the Biography page, a number of Chris' pieces have been performed by some extremely notable guitarists. Details of performances are listed below.
Title
Performer
Premiere
A Garland of Grainger
Paul Gregory
6th May 1997
2 of 24 Fantasy Sketches
Galina Vale
14th January 1998
Summer Days
Galina Vale
14th January 1998
Jessica
Shuko Shibata
30th April 1998
Lifedance for Three Guitars
Triptico
13th May 1998
Pastorale and Dance
for Flute, Viola and Guitar
In Company
9th June 1999
A Woodland Arabesque
Scott Bradley
11th September 1999
Partita in Four Movements
for Flute and Guitar
Alison Back / Paul Gregory
14th November 1999
A Waltz - Trilogy for Two Guitars
The Guitar Duo (Paul Gregory / Alison Parratt)
The z.o.o. Duo (Marion Schaap / Peter Constant)
5th April 2000
A Peace for all Children
for Flute and Guitar
Alison Back and Paul Gregory
31st July 2000
Jessica (for two guitars)
The Guitar Duo (Paul Gregory / Alison Parratt)
2001
An English Idyll for Guitar Orchestra
Peter Rueffer Guitar Orchestra and
Cambridge Guitar Orchestra
August 2001
Blues for Alison
Alison Back
4th September 2001
A Dance Rhapsody
Scott Bradley
24th November 2001
Sonatina for tuned
percussion and guitar
Craig Ogden / Paul Tanner
18th November 2001
Sonatina in homage to Ravel
Paul Gregory, Fairfield Halls Croydon
4th May 2004
A Fantasy On Shenandoah
Paul Gregory
23rd May 2008
Tryptych - II 'Dreaming'
Cambridge Guitar Orchestra, St. Neots Parish Church
23rd November 2013
Sonatina for 2 Guitars
Duo Flamas, Roborst, Belgium
1st February 2014
In Memoriam Paco De Lucia
Dillington Guitar Summer School Players
8th August 2014
Celtic Elegy
Dillington Guitar Festival Players
July 2015
A Moment Alone
Valerie Hartzell
14th November 2015
Aubade
for Flute, Viola and Guitar
TrioConBrio
17th January 2016
Dance - Rondo
Cambridge Guitar Orchestra
June 2017
Variations on 'She Moved Through The Fair'
Valerie Hartzell, Bellaire, Texas
June 13th 2017
Dance Round The Maypole
Cambridge Guitar Weekend Players
1st Oct 2017